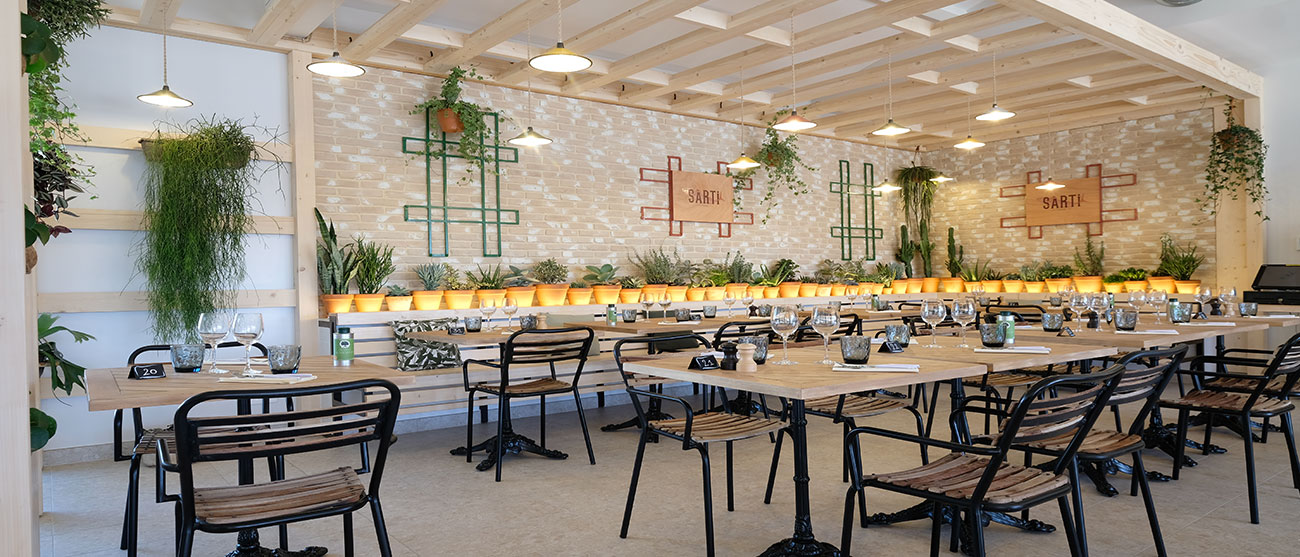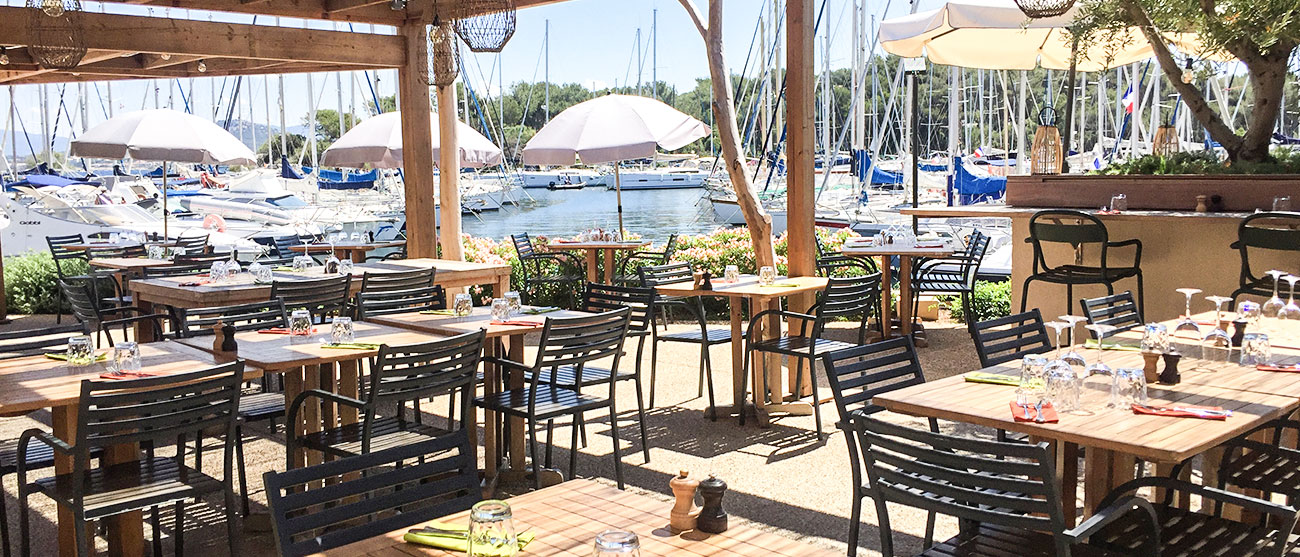 Hôtel

Appartement




BOOKING
The restaurant Sàrti welcomes you all year long on Île des Embiez !
The flagship restaurant of Île des Embiez on the square of the pier, has had a makeover. Entirely renovated, it has been fully redesigned to give you a unique experience at the heart of Provence and the Mediterranean region.
Its name sets the scene: it is a Provençal term denoting ropes used to connect the anchor chain to the boat when it is moored. Here, the sea and Provence are given pride of place, both in the decor—made up of blue hues and wood, like on a boat—and the menu, especially regarding local fishing and our typically Provençal dishes such as aïoli.
Inside, there are three areas:
Le Comptoir (the bar) offers a wide range of hot and cold drinks, cocktails and smoothies à la carte or on the menu-of-the-day slate board, depending on our team's inspirations and discoveries.
La Cantine (the restaurant) offers, in a room with nature-themed decor, a Provençal and Mediterranean menu, as well as a menu-of-the-day slate board featuring dishes carefully prepared by the chef, concocted in accordance with the day's fresh market produce and local catch of fish*.
Le Patio (the terrace) facing the port gives you a chance to enjoy culinary delights to the sound of boats against the backdrop of Provençal decor, surrounded by woods and olive trees.
*Weather permitting, our artisanal fisherman from Le Brusc delivers—at the end of the morning in front of the restaurant—his catch of the day, performed sustainably and responsibly. The fresh fish is grilled in a wood-fired oven and immediately suggested on the menu-of-the-day slate board.
So, we're expecting you here so we can share with you this new experience full of "Sàrtitude"!
What's Sàrtitude? Come to our restaurant to find out!
Since 9 August, a valid Covid-19 "Pass Sanitaire" (Health Pass) is mandatory for all visitors 18 years and older. Since September 30, 2021 the "Pass Sanitaire" (Health Pass) is mandatory for minors aged 12 to 17 years old.
Depending on your situation, your Covid-19 pass may be provided in the form of:
A vaccination certificate: stating that you are fully vaccinated.
A recent negative Covid-19 test, either an RT-PCR or antigen test, from within the last 72 hours.
An old positive Covid-19 test proving that you have recovered from the virus, from more than 11 days and less than 6 months ago.
Since October 12, 2021, the obligation to wear a mask in estaablishments subject to the health pass has been deleted (prefectural decree of October 11, 2021).
SCHEDULE
THIS WEEK
| | | |
| --- | --- | --- |
| | Day | Evening |
| Monday | 12:00 - 14:30 | |
| Tuesday | 12:00 - 14:30 | |
| Wednesday | 12:00 - 14:30 | |
| Thursday | 12:00 - 14:30 | |
| Friday | 12:00 - 14:30 | 19:00 - 22:00 |
| Saturday | 12:00 - 14:30 | 19:00 - 22:00 |
| Sunday | 12:00 - 14:30 | 19:00 - 22:00 |
For a specific date

SÀRTI
USEFUL INFORMATION
SÀRTI
Place de l'embarcadère
Île des Embiez
83140 Six Fours Les Plages
Access
When you leave the boat,
the bar-restaurant is on your left
CLOSURE OF RESTAURANT POSSIBLE WITHOUT NOTICE IN CASE OF EVENTS