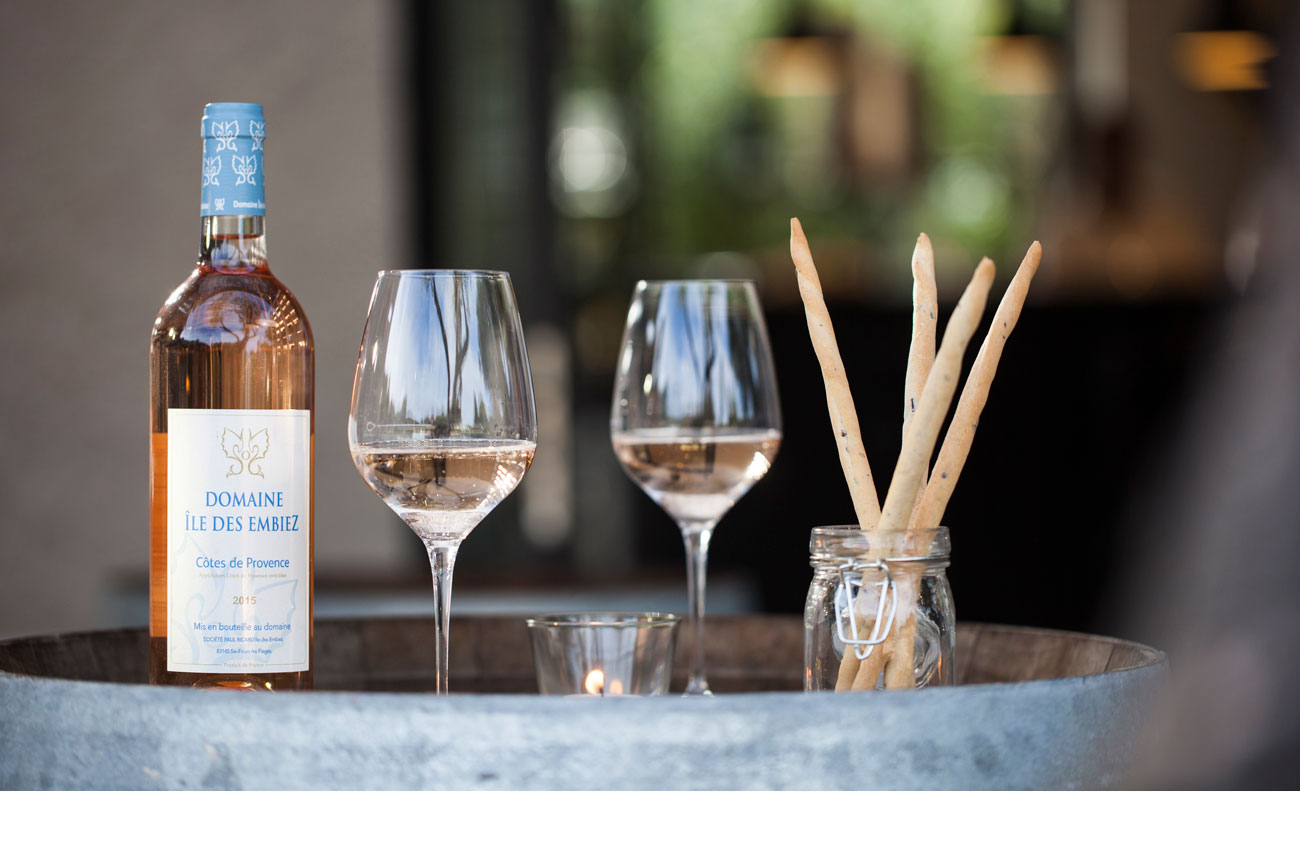 WINE ESTATE
The estate is the terroir the farthest out from the center in the Côte de Provence region according to its designation and only wine estate of the city of Six-Fours-Les-Plages.
Where to buy the wine of Domaine des Embiez ?
On site
:
At the estate's shop in season, at the Harbour Master's office or at Balthazar, our wine bar
In delivery
:
In delivery at home
On line
:
By contacting our teams via the form available below

Hôtel

Appartement


THE ESTATE'S SHOP
Located in front of the wine cellar, on the main square, the estate's shop welcomes you for wine degustation and purchase of the Ile des Embiez wine.
Schedule below.
A tour of the cellar for groups (20 to 25 people) accompanied by a wine degustation is also available. Each participant leaves with a bottle of Rosé as a present.
Our wines
Rosé AOP Côtes de Provence

Plantings


Grenache, Cinsault, Syrah

Taste in mouth


fruity and acidulous flavours

To drink between 11 and 12° C
Blanc AOP Côtes de Provence (white wine)

Plantings


Ugni blanc, Rolle (Vermentino)

Taste in mouth


grapefruit flavours

To drink between 11 and 12° C
Rosé IGP Pays du var

Plantings


Grenache, Cinsault

Taste in mouth


citrus flavours

To drink between 9 and 10° C
ROUGE IGP Pays du var (red wine)

Plantings


Merlot, Cabernet Sauvignon, Grenache, Syrah, Cinsault

Taste in mouth


candied fruit aroma, vanilla and liquorice flavours

To drink between 17 and 18° C
Excessive drinking may damage your health, drink with moderation.
SCHEDULE FROM APRIL 6th, 2019
April, May and June:
Open on Monday, Tuesday, Friday, Saturday, Sunday and for public holidays
10:30 – 13:00 AM / 2:30 – 6:30 PM
July and August:
Open every day
10 – 13:00 AM / 3:30 – 7:30 PM
September:
Open every day except on Thursday
10:30 – 13:00 AM / 2:30 – 6:30 PM
SOME HISTORY
1901: birth of the vineyard
1958: Île des Embiez is bought by Paul Ricard
10 hectares (A.O.C.), Côte de Provence and Vin de Pays du Var.
We knew Paul Ricard created the famous brand of anis-flavored drink, but he also produced wine and not just any wine, the wine of his island…
When Paul Ricard acquires the Ile des Embiez in 1958, the island already has 10 hectares of vineyards, whose origins date back to 1901. These sun-soaked grapes produced as early as 1978 an AOC labelled wine Côtes de Provence and Vins du Pays du Var. Still today, divided into AOP Côtes de Provence and IGP Vin de Pays du Var.
Paul Ricard was a forerunner in the field of ecology and decided to continue this ancient wine-producing tradition. Nowadays, his descendants which are faithful to his ideas, are carrying on this tradition, by putting this unique terroir of the Île des Embiez in the spotlight.
The soils made up of a limestone and clay mix benefit from the influence of the sea which helps us keep a tasty acidity in the grapes. All of these influences are what is typical of our wines, which is characterized by a nice saline basis.
The conduct of the vineyard is within reasoned wine-making where the respect of the grapevine is our priority.  We are starting in 2017 an organic conversion of the vineyard.
In winter
Pre-trim, mechanical weeding "by tractor", or by hand "with a hoe" from January to the harvest, trimming.
In spring
Debudding, straitening or tethering of the grapevine, stripping, branch removal, replacement of the ceps torn off the previous year
In summer
Shearing, harvest in green before the ripening, stripping on the side of the rising sun.
In autumn
Manual harvest, maintenance of the vineyard (creation of trails, staking …)