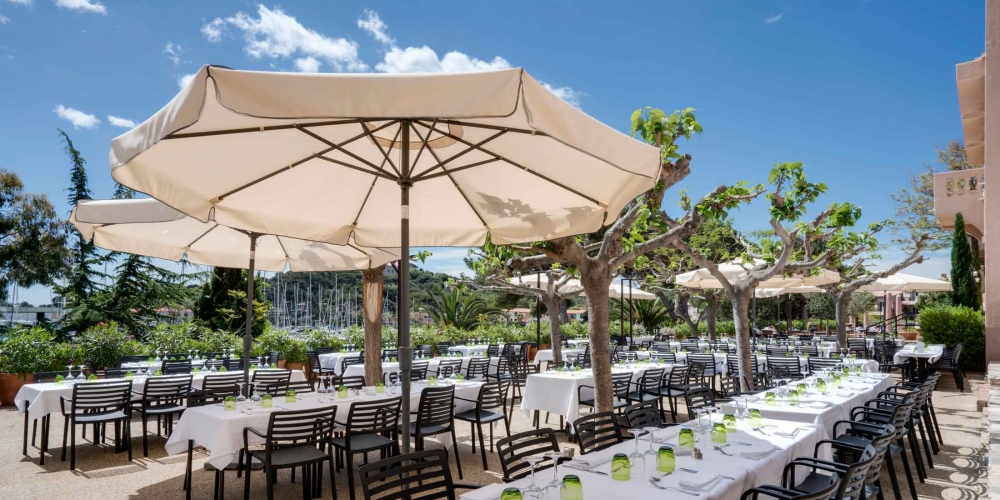 Hôtel

Appartement




BOOKING
Our restaurant is currently closed until further notice. Thank you for your understanding. We look forward to welcoming you!
Les Jardins d'Helios restaurant welcomes you on July and August on Embiez island.
Delicious Mediterranean food is waiting for you on the panoramic terrace. Enjoy convivial, festive authentic cuisine while peacefully looking over the harbour and listening to the wind playing aeolian harp with the sailboat masts to the rhythm of the Mediterranean sea.
SCHEDULE
THIS WEEK
Day
Evening
Monday
Closed
Tuesday
Closed
Wednesday
Closed
Thursday
Closed
Friday
Closed
Saturday
Closed
Sunday
Closed
For a specific date

Les Jardins d'Hélios
USEFUL INFORMATION
Les Jardins d'Hélios
Hôtel Hélios
Ile des Embiez
83140 Six-Fours-Les-Plages
FRANCE

Phone: 00 33 (0)4 94 10 66 10
Access
On the island of Embiez take the main street, cross the square, go along the port and you will see the Hôtel Hélios and its restaurant Les Jardins d'Hélios.