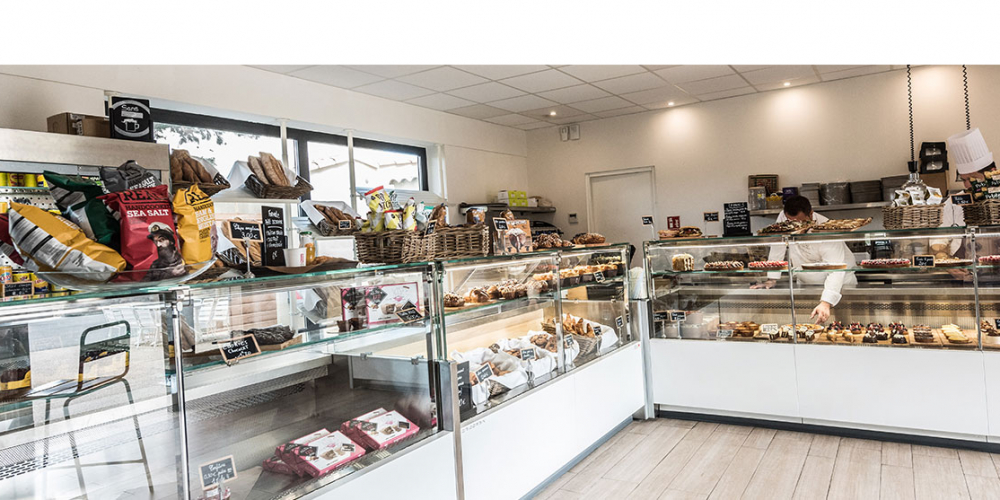 Hôtel

Appartement



Pains et Saveurs - Caterer/bakery
Pains et Saveurs, the bakery-caterer, welcomes you on Embiez island.
Pains et Saveurs offers typical products of the bakery: bread, pastries, cakes, sandwiches, small savory pies … It also offers a fast and qualitative cuisine, to be consumed on the spot in its air-conditioned room, under the umbrellas of its splendid terrace or to take out: pizzas, homemade dishes or roasted chicken with its diced potatoes (to order).
During summer, enjoy the breakfast offer, available from 7.30 am with pastry and hot drink. Moreover, the Louise ice cream shop, just outside the Pains et Saveurs bakery, offers fresh ice cream and homemade fruit sorbets with delicious flavors.
The restaurant also offers fast and quality cuisine, to be eaten on the spot in its air-conditioned dining room or in the shade of the parasols on its beautiful terrace; or to be taken away in your flat on the island or on your way back to the island:
THE CATERING OFFER
In case of hunger, empty fridge or lack of time, enjoy a wide choice of home-made starters, dishes and desserts, cooked on the island by our Chef and his team. Indeed, our new range of products in jars is available for sale since this summer: fish soup, anchovy paste, tapenade, tomatade, sardinade, terrine, soup, ratatouille… and delicious desserts. To enjoy on the spot or to take away. More information on our new Emb'ocaux range.
SALADS
Enjoy our salads, with :
Italian: tomatoes, mozzarella, grilled vegetables, pesto, rocket.
Mediterranean tabbouleh: semolina, cucumber, peppers, tomatoes, onions, basil, parsley, coriander, saffron, olive oil.
SANDWICHS
A wide choice of sandwiches:
Pan bagnat (tuna, hard-boiled egg, anchovies, salad, red onions, tomatoes, peppers, pesto, olives, olive oil)
Mediterranean (Ciabatta bread, grilled vegetables, candied tomatoes, rocket, basil).
Italian (pretzel bread, raw ham, Philadelphia, rocket, olives, candied tomatoes, mozzarella).
The Parisian (plain bread, white ham, comté, plain baguette, butter).
DIRTY PIES, CROQUE-MONSIEUR
Quiches…
Traditional home-made croque-monsieur
Home-made salmon croque-monsieur
COOKED DISHES
Pasta (carbonara, bolognese, pesto)…
Fish (cod, monkfish, shrimp, Thai stir-fry)…
Meat (roast chicken, lamb sauté, beef sauté à la provençale)…
PIZZAS
Treat yourself to our home-made pizzas:
Pizza Reine ( tomato, white ham, mushrooms, mozzarella)
Pizza des Embiez ( tomato, fresh goat cheese, honey, rosemary, olives, mozzarella)
Pizza toscane ( tomato, mozzarella, raw ham, rocket, olives, parmesan, capers)
Pizza 4 cheeses ( tomato, mozzarella, gorgonzola, goat cheese, comté)
Pizza provençale veg ( tomato, candied vegetables, basil, olives, artichokes, mozzarella, parmesan shavings)
Pissaladière ( tomato, onions, anchovies, olives, thyme)
Good plan ! Take advantage of a DUO EMBIZZA offer including pizzas + drink:
– 2 pizzas + 1 bottle of Domaine île des Embiez = 10% discount
– 3 pizzas + 1 bottle of Domaine Ile des Embiez = 15% discount.
ROTISSERIE
To order in season, ideal to take away and to share, our roast chicken with its potatoes.
DESSERTS AND PASTRIES
Basket of seasonal fruit
Cottage cheese or yoghurt plus coulis
Pies of the day and pastries
ARTISANAL ICE CREAMS
The ice-cream parlour, located outside the Pains et Saveurs bakery and catering business, offers fresh milk ice-creams and sorbets made with homemade fruit and delicious flavours.
SCHEDULE
THIS WEEK
| | | |
| --- | --- | --- |
| | Day | Evening |
| Monday | 07:00 - 22:30 | |
| Tuesday | 07:00 - 22:30 | |
| Wednesday | 07:00 - 22:30 | |
| Thursday | 07:00 - 22:30 | |
| Friday | 07:00 - 22:30 | |
| Saturday | 07:00 - 22:30 | |
| Sunday | 07:00 - 22:30 | |
For a specific date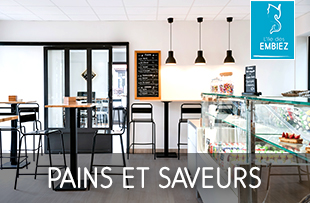 Pains et Saveurs - Caterer/bakery
USEFUL INFORMATION
Pains et Saveurs - Caterer/bakery
Allée des Palmiers
Ile des Embiez
83140 Six-Fours-Les-Plages
FRANCE

Phone: 00 33 (0)4 98 03 07 15

Access
On the island of Embiez take the main street Pains et Saveurs is a few meters from the pier before the main square.
CLOSURE OF THE ESTABLISHMENT POSSIBLE WITHOUT NOTICE IN CASE OF EVENTS