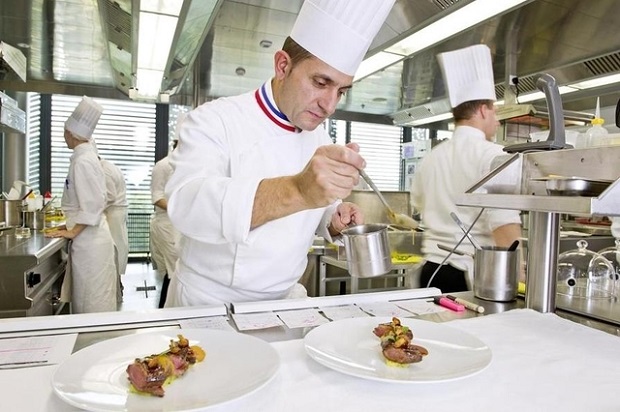 Christophe PACHECO arrived on Les Iles Paul Ricard in beginning 2015 to breathe new life the Iles Paul Ricard kitchens.
He discovered cooking at the age of 15 and was taught by the most renowned chefs. For him, cooking is a vocation, which he loves to pass on to the generations to come. He is a noble-hearted man who loves to satisfy fine gourmets. Christophe began to learn at the Jamin restaurant (ranked three stars in the famous Michelin guide), in Paris along Joël Robuchon. He then moved on to the Prince de Galles on George V Avenue. Eventually, he continued his career in La Closerie des Lilas and finally joined Guy Krenzer's team, "Meilleur ouvrier de France" in catering.  He then decided to go on his own and opened his restaurant "Aux Armes de France" in Corbeil-Essonne (91), where he quickly obtained his fist Michelin star. (2004)
In 2007, he became in charge the events and restoration part of the Deauville resort in the Lucien Barrière Group. This is where he had the chance to meet Frédéric VINCENT, president of the SAHB (Societé d'aménagement et Hôtelière de Bendor) since September 2014.
In 2011, he decided to become the head of the gastronomic restaurant "Le Cinq", of the Hotel and Spa "Au Coeur du Village"*****, in La Clusaz.
Then in September 2012, he became head of the kitchens of the gastronomic restaurant at a culinary school "Le Berceau des Sens" as well becoming responsible for education in practical arts of the Ecole Hôtelière de Lausanne. A school with worldwide fame in which he taught future hotel and restaurant managers.
With a burning passion, Christophe PACHECO is a competitor at heart who likes to fully embrace his passions, he combines precision with authenticity, "quality, pleasure, emotion, sensibility and elegance" are the words that define him. Thanks to his values and precision, he was prizewinner of the national cooking and patisserie contest in 2000 and awarded the title of "Meilleur Ouvrier de France" in gastronomic cooking in 2011.