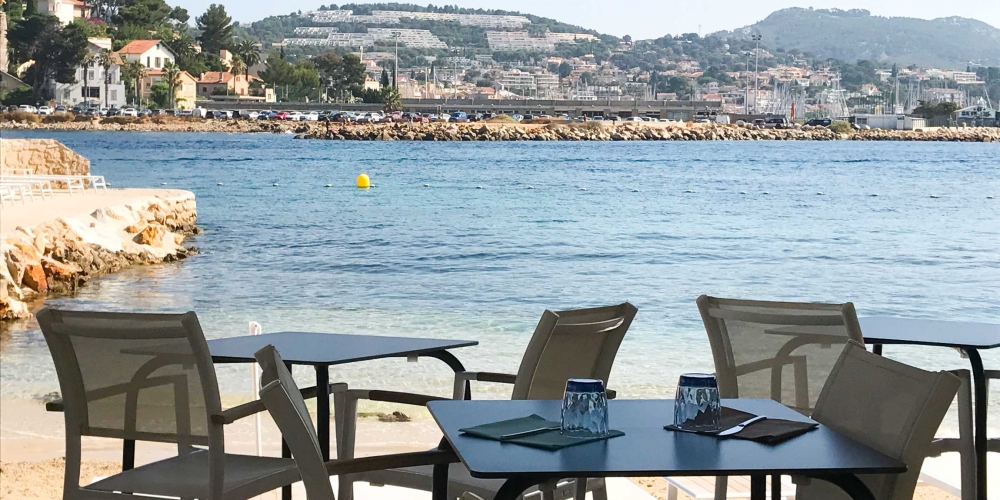 Hôtel

Appartement



Bendor Plage - beach restaurant

BOOKING
The Bendor Plage, beach restaurant, welcomes you each summer.
Bendor Plage welcomes you to the island of Bendor in the summer season, with your feet in the sand, with a breathtaking view of the Bay of Bandol.
Enjoy a snack and lemonade service from 10:00 a.m. to 7:00 p.m. with your feet in the water.
Find the menu, opening days and times and book your table directly online below.
Note: In accordance with the measures imposed by the government, wearing a mask is compulsory to access and circulate in our restaurant. Thank you for your understanding.
From 9 August, a valid Covid-19 "Pass Sanitaire" (Health Pass) will be mandatory for all visitors 18 years and older.
Depending on your situation, your Covid-19 pass may be provided in the form of:
A vaccination certificate: stating that you are fully vaccinated.
A recent negative Covid-19 test, either an RT-PCR or antigen test, from within the last 72 hours.
An old positive Covid-19 test proving that you have recovered from the virus, from more than 11 days and less than 6 months ago.
SCHEDULE
THIS WEEK
Day
Evening
Monday
Closed
Tuesday
Closed
Wednesday
Closed
Thursday
Closed
Friday
Closed
Saturday
Closed
Sunday
Closed
For a specific date

Bendor Plage - beach restaurant
USEFUL INFORMATION
Bendor Plage - beach restaurant
Ile de Bendor
83150 Bandol
FRANCE

Tél. : 0033 (0)4 94 05 54 68
Access
From the pier on the island of Bendor go right, past La Terrasse de Bendor, then go left into the Village des Créateurs. The first terrace of our restaurant is in the centre of the village, the second across from it, on the beach.
CLOSURE OF RESTAURANT POSSIBLE WITHOUT NOTICE IN CASE OF EVENTS OR BAD WEATHER