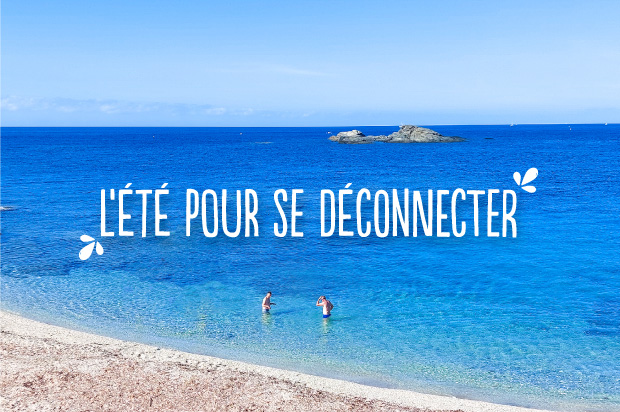 Feeling like escaping, wanting some fresh air but mostly wanting to dream ? We all need it ! Especially right now. Summer holidays may seem far away but they will come around faster than you think.
ESERVER VACANCES D'ETE)
ILE DES EMBIEZ TO DISCONNECT 
The evasion is immediate. The feeling that here, time stops. We can already picture you : feet in the sand, a relaxed face… On the île des Embiez, live your holidays like YOU want and let yourself be transported far away, by being only a few minutes from the continent by boat.

Wether you like basking in the sun or putting your shoes on in search of wonderful landscapes, the island offers all those possibilities and so much more with many activities. The ideal location to recharge your batteries and disconnect from reality.
LETTING GO OF EVERY DAY LIFE
« FEELING FAR BUT STAYING CLOSE »
You start your stay by leaving your car (and your worries!) on the continent and you get aboard the boat for the island. Yes ! On the island, no cars are allowed so you will not have any klaxons or traffic jam… No stress ! Only a cristallin water, all around. Only 10 minutes in boat, it has never been that easy to access such a paradisiac island !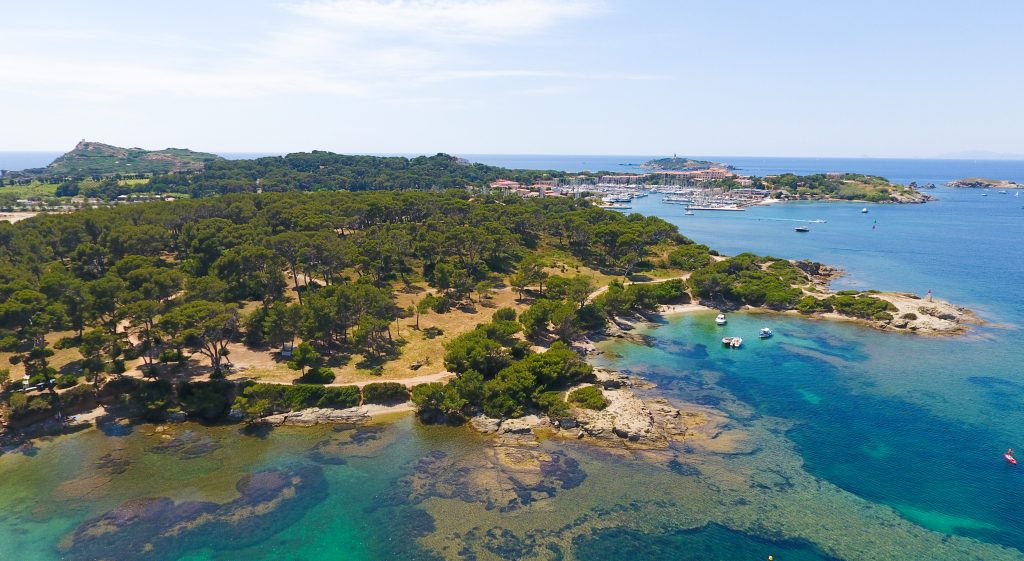 CONFORTABLE HOLIDAYS
While on vacation, you dream of a nice cozy bed and a vitamined breakfast ? You're in the right place ! The Hélios Hotel guarantees confort and serenity for a minimum 3-nights stay, from 235€(1) a night for a Classic Room with sea view, or for a longer stay out of time.
Included for every booking pour toute réservation :


A roundtrip for our marine crossing for your arrival and your departure, no vehicles


Breakfast buffet with a panoramic view on the harbour


Access to the wellness area of the HelioSpa : indoor heated pool, solarium and cardio-training room


Unlimited high-speed wifi connection : to share the prettiest pictures of your holidays #iledesembiez
👉 BOOKING MY STAY AT THE HELIOS HOTEL
INDEPENDANT HOLIDAYS
Our flats (or villas!) offers everything you need to enjoy your stay at your own pace. For a 7-nights stay minimum, your night starts at 127€(2) in a studio appartement for a peaceful and restful vacation.
Inclus pour toute réservation :


A roundtrip for our marine crossing for your arrival and your departure, no vehicles


Bed linen and towels : to make room for swimsuits in your suitcase


A maintenance welcome kit : start your stay peacefully


End of stay cleaning (excluding kitchen) : enjoy your stay until the last moments


Unlimited high-speed wifi connection : to share the prettiest pictures of your holidays #iledesembiez
👉 BOOK MY SUMMER HOLIDAYS IN AN APPARTMENT
VACATION AT YOUR OWN PACE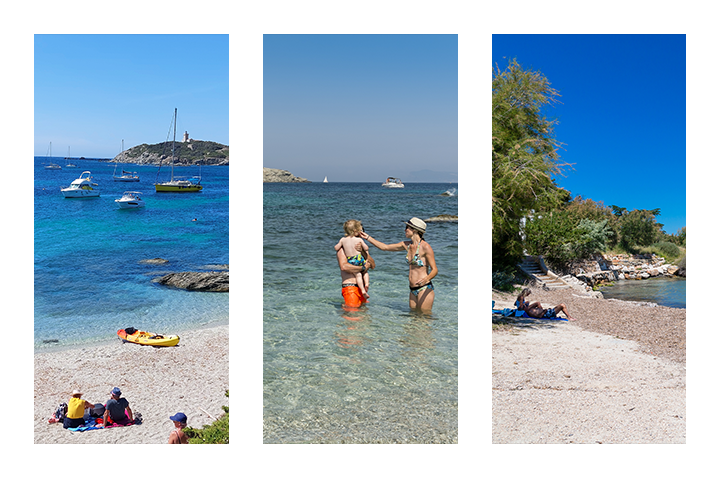 For the people that love basking in the sun and staying calm, you will have the opportunity to enjoy the various beaches and creeks. Benefit from this beautiful palet between blue and green and lay your towel. Objective : farniente and absolute relaxing ! With family or friends, you will have plenty of chance to decide where to stop. Why not, even, change beaches everyday ? A good book under your arm, a towel and a deckchair and you are set to go !
It will also be possible to appreciate a wellness break at the HelioSpa. A few breaststroke in our inside heated pool, a good pampering from our team with a "Cinq Mondes" treatment and lougne in our solarium.
And for the people looking for activities, you only have to make your choice !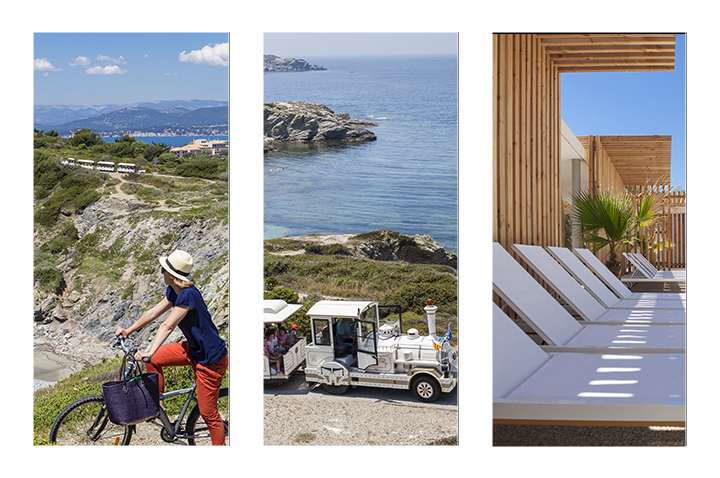 Curious people will enjoy to furrow the island by foot or by renting a bike and discover the exceptional views. réserver vacances d'été
Looking for a deeper and filled with anecdotes visit ? Go to the petit train of the island : a well-appreciated attraction by kids and parents alike and animated by Christian, emblematic chauffeur.
And if you like history and you want to know more about Paul Ricard, take a stroll along the harbour and take the time to read the exposition that trails the life og the Man, the Artist, the Entrepreneur.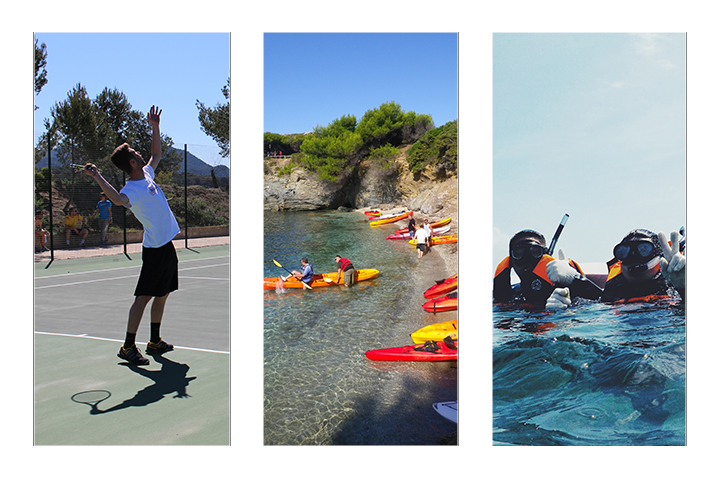 Fond of seabed ? Direct yourself to the diving club to meet the many species that lives on the mediteranean coast.
Still not tired ?

réserver vacances d'été
If you want to go to sea, we have a rental boat service for an entire day of half a day. Sail and enjoy the freedom while navigating around the island. Our advice ? Make a stop in one of the secret creek !
A nautical base is also available to able you to rent catamaran, kayak, paddles and such… Anything to keep moving while enjoying the sun and the fresh air.
For our most competitive, defy yourselves and each other during a sunny day on one of our petanque court and even better ! meet new people that you might also be able to challenge on our tennis courts.
The day is coming to an end, the sun is setting and you can start your evening at a table on the main place.
A TASTE EXPERIENCE
Moreover, the île des Embiez allows you to treat yourself thanks to its various offer of restauration point.
If you'd like to make the most of your mediteranean trip, go to the SARTI with its typically Provencal flavors and daily fishing. If you are more into rotisserie and plancha, the BBQ is here for you, on the main place. The Jardin d'Hélios offers more an italian-influenced cuisine while the Truck de l'île will charm you with its delicious hamburgers and its view. For desert, the Cabana Sucre will provide your sweet tooth with fresh ice cream and gelatos.
Looking for a bar to enjoy a relaxed evening with friends or family, go to the Bar des Amis or the Garlaban, bar lounge restaurant.
ALCOHOL ABUSE IS BAD FOR YOUR HEALTH, TO CONSUME WITH MODERATION.
A CONNECTED ISLAND WHERE EVERYTHING IS MADE TO DISCONNECT
Even though the island offers an unlimited high-speed internet connexion, we would advise you to put your phone down a few moments to fully appreciate your holidays !
However, if your phone isn't far, you might as well use it to post your prettiest picture and tag us in it ! 😉 #embiez #ilespaulricard

INSTAGRAM : @LESILES_PAULRICARD


FACEBOOK : @LESILESPAULRICARD
_____________________________________________________________________
(1)For every booking of minimum 3 nights at the Helios**** hotel, from July 8th to August 27th 2022 included, if availability. Exemple : for a stay from July 8 to 10, a classic room is 235€ per night (705€ the entire stay). Flexible condition of modification and cancelation.
(2)For any booking of 7 nights minimum from July 8th to August 27th, according to availability. Exemple for a stay from July 8 to 15, a night in a studio (maximum capacity 3 people) is at 127€ (889€ for the week). Flexible condition of modification and concelation.