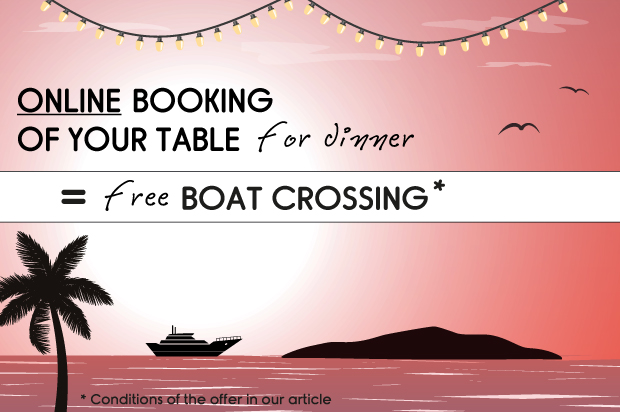 For each dinner booked online, in one of our restaurant on "Les Iles Paul Ricard" (the Paul Ricard Islands), you will benefit from a free boat crossing starting from 6 pm either from the harbour of Bandol or the harbour of Le Brusc in Six Fours.
How can you book your table at the restaurant?
Get to the restaurant page on our webite where the online booking is available
Check the openning schedule
Click on the "Book" button and select the number of person, the day and hour of your reservation
Put your contact information
Click on "Book"
How can you benefit from the free boat crosing offer?
To come on the island – from 6pm to 9pm: The day of your reservation, show the booking confirmation received by email to the sailors
To return from the island: show the booking confirmation and the note of the restaurant to the sailors
THIS OFFER IS AVAILABLE FOR:
ON ÎLE DES EMBIEZ
ON ÎLE DE BENDOR
Offer available only for online dinner booking and according to availability.
**Online booking is not available for Le Grand Large, please call the restaurant to make your reservation: 0033 (0)4 94 29 81 94
Please find useful information about the restaurants on our website page RESTAURANTS.